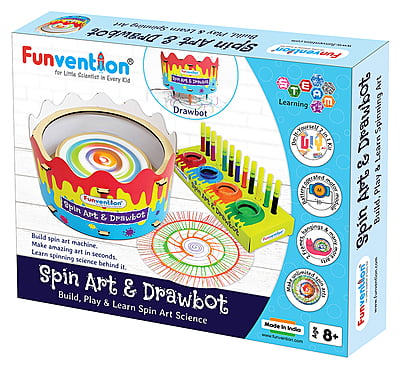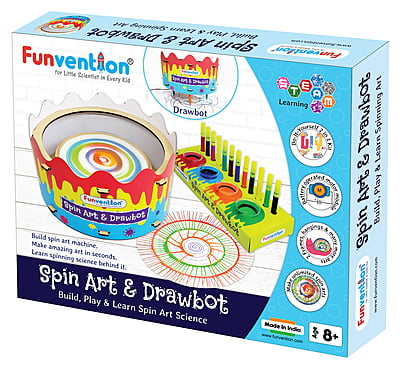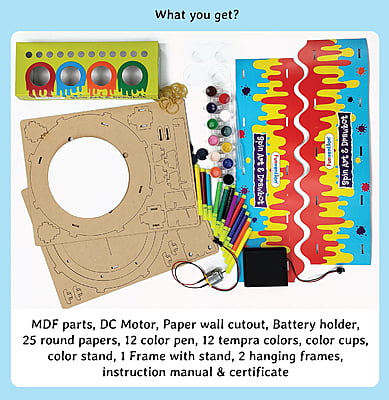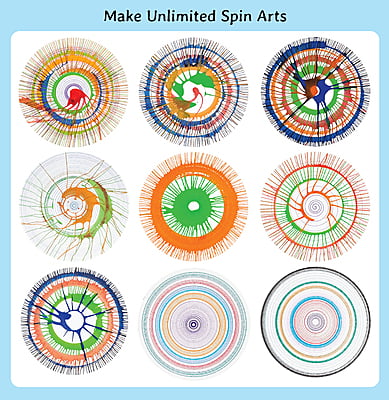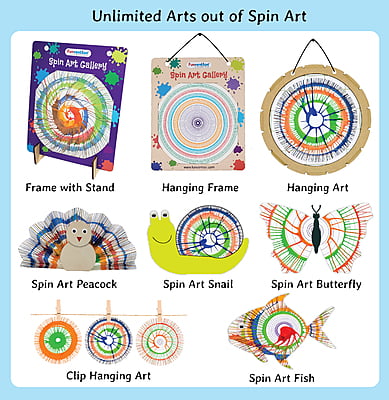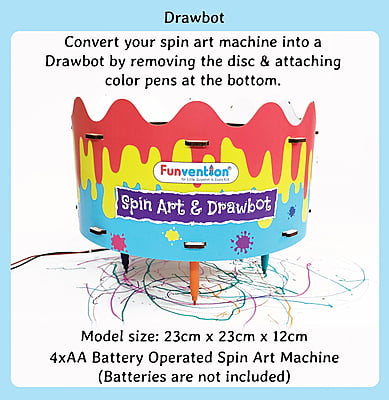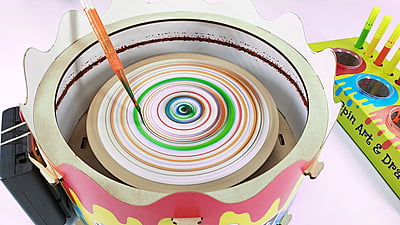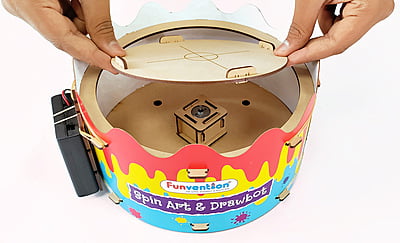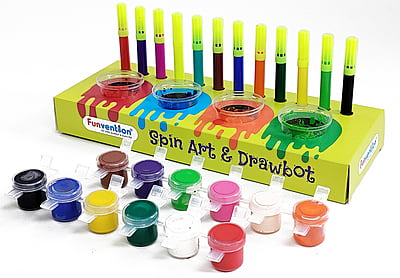 Spin Art Machine & Drawbot
Non-returnable
Spin Art Machine & Drawbot
Material: MDF Laser cut parts, Paper wall cutout, frame with stand, hanging frame, Motor, Battery holder, 25 round paper sheets, 12 tempera colors, 12 color pens, instruction manual & certificate
Model Size: 23 x 23 x 12 cm
Packaging Size: 31 x 25 x 4.5 cm
Model weight: 450 gm
Packaging weight: 500 gm
No of Parts: 50+
Build Time: 30-60 mins
Age: 5+ yrs
Description
Spin Art Machine & Drawing Robot 2 in 1 - STEM Art & Craft Kit
Funvention's Easy to build DIY spin art machine powered by battery operated powerful motor. Build the model & connect motor unit. Spin & create unlimited unique artworks out of Spin Art Machine
Convert the spin art machine into a Drawing Robot - Drawbot. It can creates nonstop random colourful drawing patterns for you.
You can also make unique art out of spin arts you created using spin art machine. Additional science information & STEM DIY activities in the booklet.
Enjoy making Funvention's DIY models with your family and friends!
It's a great STEM educational DIY toy for kids & a hobby kit for a grown-up. Unique option to gift or birthday return gifts on the occasion of a birthday or at children's events. Made in India with lots of Creativity, Care & Love.
DIY Spin Art Machine: Easy to build & very powerful spin art machine to make unlimited unique spin arts using color pens & water colors. Simply put paint onto the machine and create amazing patterns
Drawing Robot: Convert your Spin Art Machine into a Drawbot - It can create nonstop random colourful drawing patterns for you.
Perfect for kids & adults too! – our Interactive spin art machine is not just great for children but also for their proud parents and grandparents! Help your kids understand how to use this game set and rest assured that you will be having a lot of fun-filled, family moments together!
STEM EDUCATIONAL Kit: Enhance your creativity, logical reasoning, and problem-solving skills with this relaxing hobby during your spare time. Adults, teens, and older kids love the challenge of model building, and kids can learn about centrifugal force, design, and engineering concepts as they build!
Includes: Fine laser cut wooden parts, motor module, DIY plug and play circuit parts, 12 color pens, 12 water colors, 25 round paper sheets, droppers, funventor's zone book with science information, funventor's guide with step by step instructions. Assembles easily and is fun to play with.